My Blog
Posts for: July, 2014
By Phil Hart, DDS
July 23, 2014
Not long ago, a certain Royal Baby made his first major public appearance. At a "crawl-about" in New Zealand, young Prince George (the 8-month-old son of Prince William and Kate Middleton) was formally introduced to the world, along with a group of adorable tots and their proud parents. The press was quick to note not only the future King of England's cute expressions and his determined crawling — but also the appearance of his first two tiny bottom teeth.
Congratulations, William and Kate — and now, it's time to think about the taking care of those royal baby teeth. In fact, before you know it, it will be time for the age one dental visit. Why is this so important? Essentially, because proper dental care in the early years helps to establish routines that will lead to a lifetime of good oral health.
It's a misconception to think that baby teeth aren't important because they will be shed after a few years. In fact, not only do they have a vital function in a child's ability to eat and speak properly — they also serve as guides for the proper development of the permanent teeth that will follow. So caring for a tot's primary teeth is just as important as it is for grown-up teeth.
What's the best way to do that? To prevent tooth decay, clean an infant's gums after each feeding with a soft cloth moistened with water — and don't let your baby go to sleep with a bottle in his or her mouth! When teeth appear, gently brush them with a soft-bristled toothbrush and a tiny dab of toothpaste. At around age two, your child can begin to learn how to brush — with your careful supervision and follow-up, of course.
Avoiding sugary and acidic drinks (including some fruit juices) is another excellent way to keep those tiny teeth healthy! If you do allow any sugar, limit it to mealtimes; this gives the saliva plenty of time to do its work of neutralizing the sugar and acid that can cause tooth decay.
And don't forget the first visit to the dentist, which should take place by age one! Even at that early age, we'll make sure your child (and you) feel comfortable in the dental office, and help you get started with the best oral hygiene practices. We will also check for signs of cavities, watch for developmental milestones, and screen for potential future problems.
If you have questions about caring for your young child's teeth, please contact us or schedule an appointment. For more information, see the Dear Doctor magazine articles "Top 10 Oral Health Tips For Children" and "Age One Dental Visit."
By Phil Hart, DDS
July 15, 2014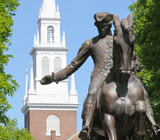 How much do you really know about Revolutionary War hero and famous disturber-of-the-peace Paul Revere? Take this quiz and find out! True or False:
Paul Revere cried "The British are coming!"
Paul Revere rode to Concord, Massachusetts.
Paul Revere practiced dentistry.
The first two answers are false: Revere, like most colonists, considered himself British at the time (but might have said "the regulars" are coming); and he never made it as far as Concord, though one of his midnight-riding companions did. The last statement, however, is true: When things got slow in his regular trade of silversmithing, Revere hung out a shingle to broadcast his skills as a dentist.
"Paul Revere can fix [teeth] as well as any surgeon dentist who ever came from London, he fixes [dentures] in such a manner that they are not only an ornament but of real use in speaking and eating," his advertisement in a Boston newspaper is supposed to have read. Revere specialized in fitting dentures made of metal and walrus ivory in his patient's mouths. (There is no record, however, that he ever worked on George Washington's false teeth.)
The practice of dentistry has come a long way since 1776. But the ideal set of dentures — one that's both aesthetically pleasing and fully functional — remains a valid goal today. But now, instead of going to a metalworker, you'll visit a denture specialist: your dentist.
We understand that dentures need to have a perfect, comfortable fit so they can do their work. That's why we take the time to make an individual mold of your mouth as the first step of the process. Then we choose prosthetic teeth in the shape, size and shade that's right for you. When everything is satisfactory, the dentures will be custom-fabricated in a dental laboratory using high-quality materials that are lifelike and durable. Finally, we will make sure that your new dentures look, feel and function the way they should.
If you have older dentures that no longer fit as they should, come in to our office for a check-up. It's sometimes possible to repair or re-line dentures; in other cases, it's best to have a new set made. Ill-fitting dentures aren't just uncomfortable — they can also lead to oral infections and nutritional difficulties.
For more information about dentures or denture repair, please contact our office to schedule a consultation. You can learn more in the Dear Doctor magazine articles "Loose Dentures" and "Removable Full Dentures."